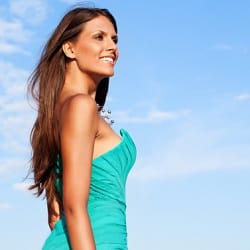 Breast Reconstruction The Woodlands
There is no one correct way to move on after the loss of one or both breast due to a lumpectomy, mastectomy, or deformity. For some women, a vital part of recovering and moving on is rebuilding what they lost. The Breast Reconstruction procedure is unique to each woman depending on her situation, goals and needs. Typically breast reconstruction surgery is performed using one of two methods: implant reconstruction or flap reconstruction. The implant reconstruction is performed with saline or silicone breast implants. The flap reconstruction is performed using the patient's own tissue from another area of their body. The breast reconstruction may be performed in steps and it may be performed at the time of the mastectomy or some time after the mastectomy procedure.
If you have lost, or are preparing to lose one or both breasts and are interested in learning more about what your options are for breast reconstruction, contact our office to schedule your consultation today.