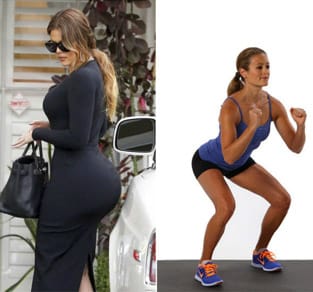 Shapelier Bottoms in 2016
When we hear the last name Kardashian it is safe to say more comes to mind than a big bank account. The Kardashians are most certainly not the first women to have a larger derriere but they not only made it okay to have a curvier appearance in Hollywood but have induced thousands of women to take extreme measures to obtain it. From work out classes now focusing solely on raising and firming up the backside to plastic surgery procedures, women are seeking natural and not so natural ways of obtaining their perfect curves.
In a survey conducted by the American Society for Aesthetic Plastic Surgery in 2014, 21,000 people underwent butt augmentation (commonly referred to as a Brazilian Butt Lift) in 2014. That is a shocking 86% increase from 2013! If they gym and genetics aren't giving you the results you desire, there are 2 surgical options. The first is fat injections in which fat is liposuctioned from other parts of the body and then prepared and re-injected into the buttocks through small incisions. The second option is inserting an implant into the buttocks. The goal of buttocks augmentation is not to simply make the buttocks larger but to shape it. A good plastic surgeon will be able to do both while working with your natural body frame to accomplish the results the individual is trying to achieve. Not every patient is going to want Kardashian big so relaying your goals to your surgeon is important as with any cosmetic surgery procedure. Patients can usually return to light work in 10-14 days.
So whether you plan on hitting the gym hard or visiting a plastic surgeons office- 2016 is expected to see a continued increase in fuller, shapelier bottoms.