Biopelle ® is among the most effective, science-based skincare lines available planet-wide. These innovative products are clinically proven to produce results you can see and feel. The Biopelle ® line of skincare products can significantly restore your skin's youthful quality. At the Lind Institute of Plastic Surgery, we offer several of these cutting-edge products:
Biopelle ®Tensage Stem Cell
This innovative product was developed with CellPro™ Technology, extracted from eggs of the cryptomphalus aspersa snail. This natural extract has an amazing capacity to nourish, strengthen, and restore aging or damaged skin, skin affected by photoaging or dermatologic treatments.
What is SCA?
During the Chernobyl disaster, victims with radiation dermatitis showed rapid recovery with a very special type of growth factor derived from the Secretion of the Cryptomphalus Aspersa, a specie of snail that has been around for over 500 million years.
The snail's secretion protects it against photodamage and other assaults on the skin. Scientists observed that the Cryptomphalus aspersa, following an injury, could produce this secretion & repair its skin in as little as 24 hours. This occurs not internally, cell to cell (like human growth factors), but on and through the skin, naturally. Tensage® utilizes the unique SCA Biorepair Technology, a growth factor which stimulates fibroblast proliferation, to help slow and reverse the visible signs of aging.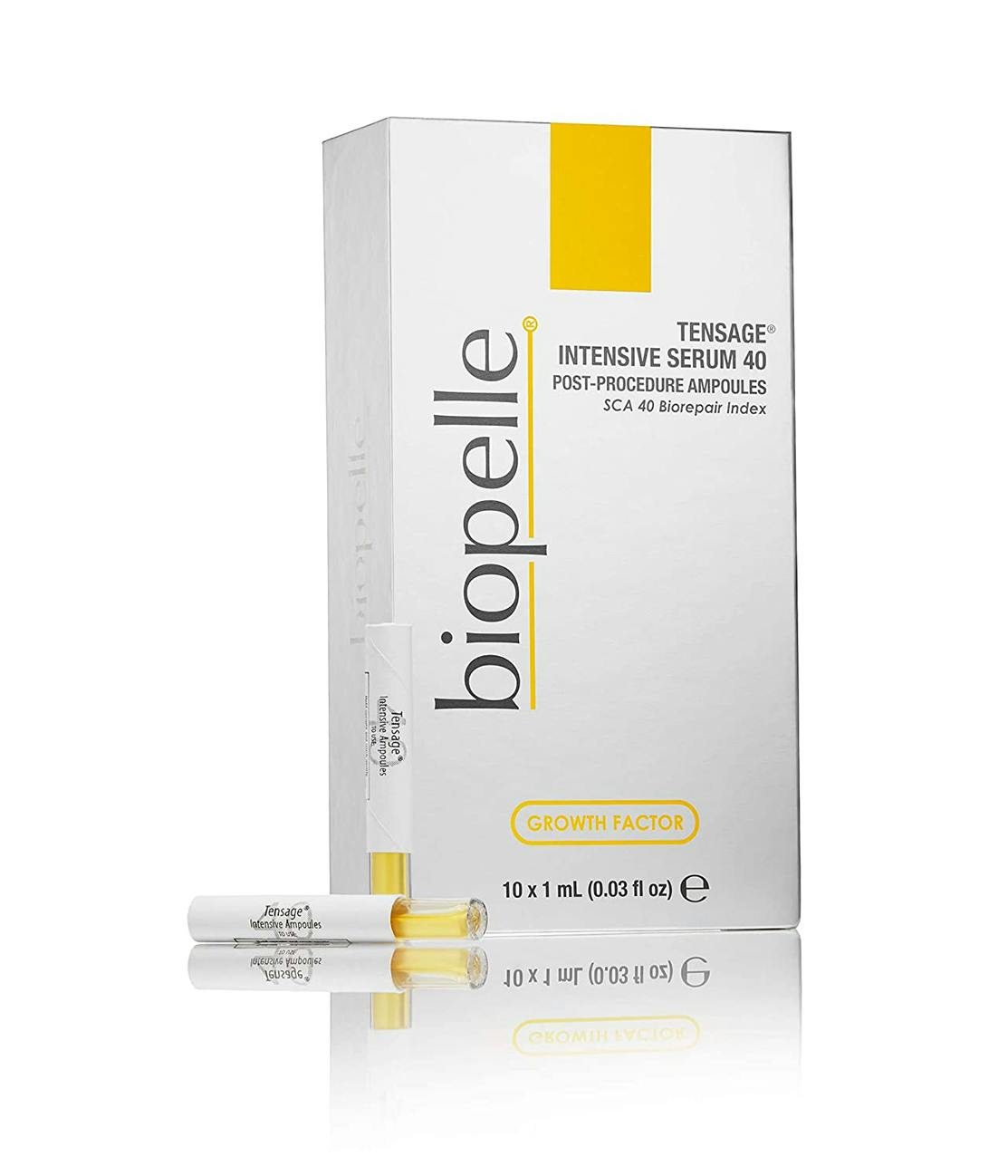 Tensage® Results
Clinically shown to improve the extracellular matrix increasing:
Collagen deposition
Hyaluronic acid density
Elastin integrity
No other growth factor is generated naturally to be specifically absorbed through the skin.
You will see:
Minimized appearance of wrinkles.
Faster skin recovery post-procedure.
Improvement in skin texture.
Improvement in tone and elasticity of skin.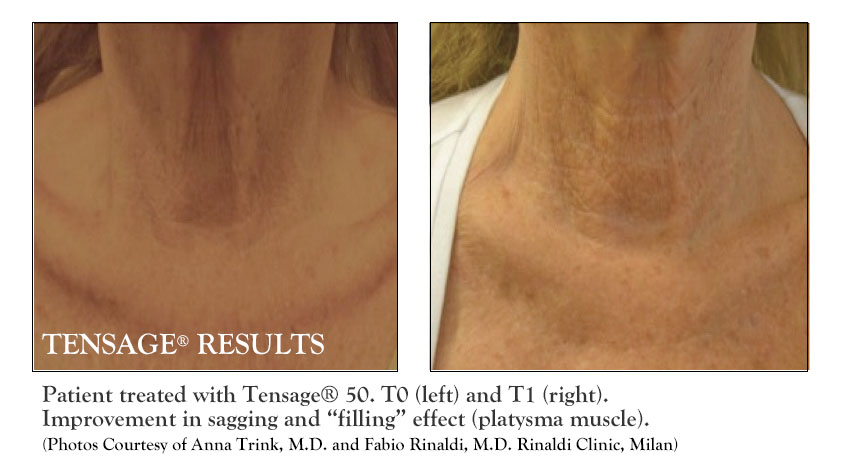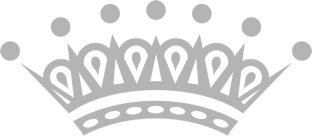 Additional Biopelle® Products
Biopelle® Exfoliate
The combination of glycolic acid and taurine is the perfect mix for enhances exfoliation and reduce the skin irritations that often occur with the application of skin-renewing glycolics.
Biopelle® Retriderm® Retinol
This formula delivers retinol to your skin for maximum absorption, causing minimal irritations and consistently achieves visible results in skin renewal.
Emepelle®
Estrogen-deficient skin can become dry, wrinkled, and flaky. Emepelle was specifically formulated to restore and enhance aging skin, and is clinically proven to enhance the quality of mature skin.
Auriderm®
Vitamin K oxide is the ideal skincare product to help speed healing after a procedure, and to reduce the appearance of visible spider veins and dark circles.
Prescribed Solutions®
This line includes cleansers, skin brighteners, serums, hydrators, DNA repair treatments, sunscreens and skin boosters.
Biopelle® Brighten
Gentle brightening agents work to even skin tone, and minimize unevenly-toned skin.
Estrogen is essential in helping the skin retain moisture, produce collagen, and maintain thickness. Women over forty experience estrogen deficiency due to perimenopause and menopause. Estrogen-deficient skin (EDS) can become dry, wrinkled, and flaky from accelerated collagen loss and visible signs of aging. According to a study published in Modern Asthetics®, 30% of the skin's collagen disappears within the first five years of menopause. Each subsequent year, 2.1% of the skin's collagen is lost.
Enter Emepelle, a breakthrough skincare innovation clinically proven to enhance and restore the quality of mature skin. Because mature skin needs specialized treatment beyond moisturizers and anti-aging creams, Emepelle offers exclusive MEP Technology® to address collagen loss and restore the natural functions of EDS. This innovative ingredient is clinically proven to effectively help improve skin dryness and dullness while reducing the appearance of fine lines. The result is healthier, more youthful-looking skin.
Other skincare products can help improve visible signs of aging, but only Emepelle® with MEP Technology® addresses the root cause of accelerated aging. Even if you're taking every measure to stay healthy and care for your skin, you still won't look your best if you're missing the estrogen factor due to perimenopause or menopause. By adding Emepelle to your daily wellness routine, you give your skin a non-hormonal solution clinically proven to help improve the appearance of estrogen-deficient skin.