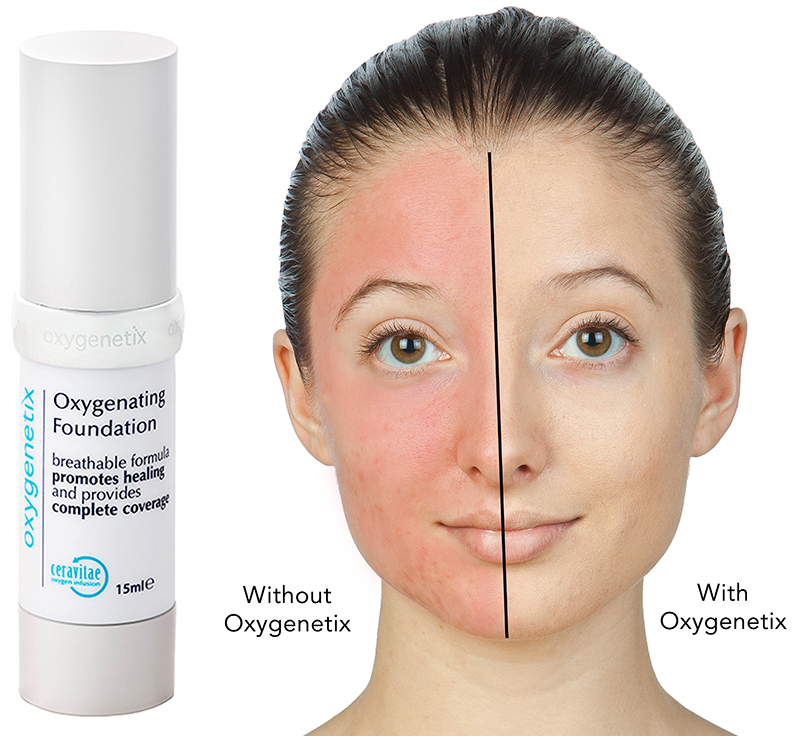 Oxygenetix – Breathable
Second Skin Foundation SPF25
The base of Oxygenetix is the patented Ceravitae™ Complex. This complex is formulated with aloe and a seven layer silica gel technology to form a breathable matrix that makes Oxygenetix Oxygenating Foundation unique. The patented Ceravitae™ complex supports new skin cell production. Therefore the skin's healing process following some aesthetic procedures is expedited and social downtime is reduced.
The breathable foundation helps heal compromised skin, and addresses many general skin conditions including, but not limited to: surface blemishes, minor injuries, rashes, cracked skin, dry skin, acne, rosacea, and many other skin conditions. The oxygenating, natural components of the gel base, Vitamin E, grape seed extract and Salix alba extract work in together to create a light, breathable, protection to the skin.
The foundation is oxygen-permeable, which allows the skin to breathe while giving full coverage. The patented Ceravitae™ Complex enhances collagen production, new connective tissue growth, and skin cell growth.
Oxygenetix – Acne
Control Foundation SPF 25
Oxygenetix Oxygenating Acne Control Foundation contains a maximum strength 2% salicylic acid, combined with the patented Ceravitae™ Complex. Ceravitae™ works synergistically with time-released salicylic acid to maintain effective treatment levels throughout the day.
Both Oxygenetix and Oxygenetix Acne Control Foundations are aloe gel-based. Therefore, they do not contain added water that can attract bacteria to the skin. This approach makes Oxygenetix antibacterial, while protecting compromised skin, and exfoliating dead surface cells. Furthermore, it is transfer and water resistant. This allows the foundation to stay in place for hours, even in humid environments.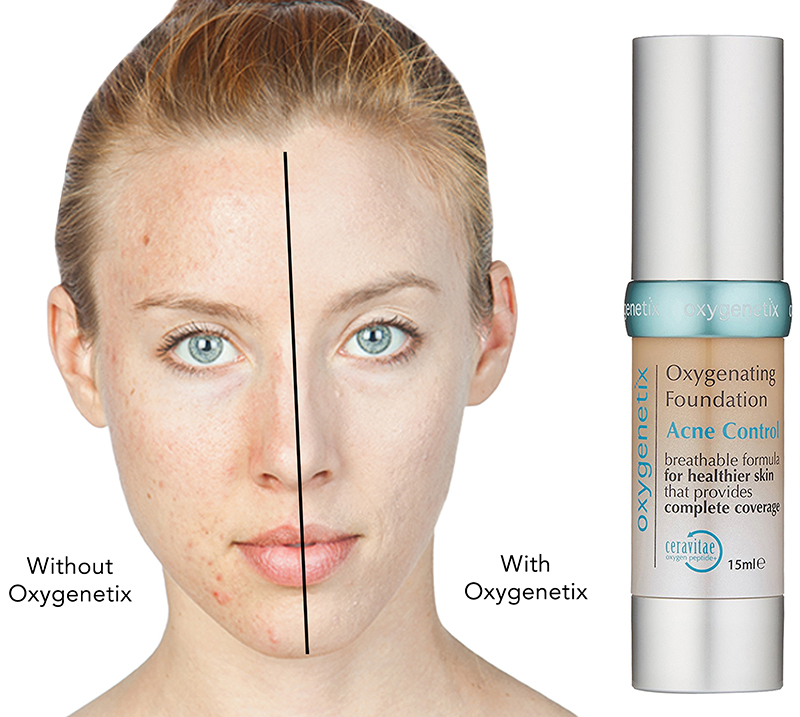 Oxygenetix – Oxygenating Hydro-Matrix Moisturizer
Oxygenating Hydro-Matrix Moisturizer and other Oxygenetix products.Many moisturizers sit on the surface of the skin, thus blocking the vital flow of oxygen. Oxygenating Hydro-Matrix provides immediate hydration and protects the skin from sun and environmental damage.
The Oxygenating Hydro-Matrix delivers fast-absorbing, long-lasting hydration while reducing the signs of aging. Aloe soothes skin irritations, reduces redness, and supplies moisture. Vitamin E, grape seed, and green tea extracts are powerful anti-oxidants to protect the skin against premature aging.
Sodium hyaluronate and PCA hydrate the skin, reduce fine lines and wrinkles, and ensures that your skin retains moisture all day. The patented Ceravitae™ Complex oxygenates the skin and is antibacterial.